he football world has rallied around a Brazilian club caught in a deadly plane crash in Colombia.
Only six of the 77 people on board the charter plane, carrying members of the Chapecoense team, survived the crash.
The team were flying to what was billed as the biggest match in their history – the final of the Copa Sudamericana.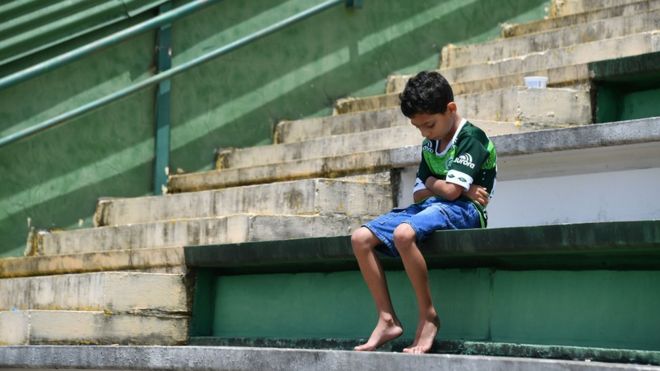 Their opponents, Colombian team Atletico Nacional, have offered to concede the game to ensure Chapecoense are declared the champions.
In a tweet, the club also asked that fans to turn up to their stadium at the time which the game was scheduled, dressed in white.
In a joint statement, Brazilian first division football teams have offered to lend players to Chapecoense free of charge, and asked the league to protect the club from relegation for the next three years.
Several leading footballers, from Barcelona stars Lionel Messi and Neymar, to Manchester United's Wayne Rooney, have also paid tribute to the players, who had become an unlikely success story in recent years.
Colombian aviation officials said there were also 21 journalists on board, and that both flight recorders have been recovered.
The plane lost contact with ground controllers as it approached Medellin at about 22:15 on Monday (03:15 GMT on Tuesday), after the pilot reported an electrical fault. It came down in a mountainous area.
The number of those on board was first said to be 81, but Colombia's disaster management agency later said four people on the passenger list did not board the plane.
Three of the six survivors are footballers:
Defender Alan Ruschel, who suffered spinal injuries
Defender Helio Zemper, who has injuries to his skull and chest
Reserve goalkeeper Jakson Follman, who has unspecified injuries.
Goalkeeper Marcos Padilha, also known as Danilo, was pulled alive from the wreckage but he later died in hospital.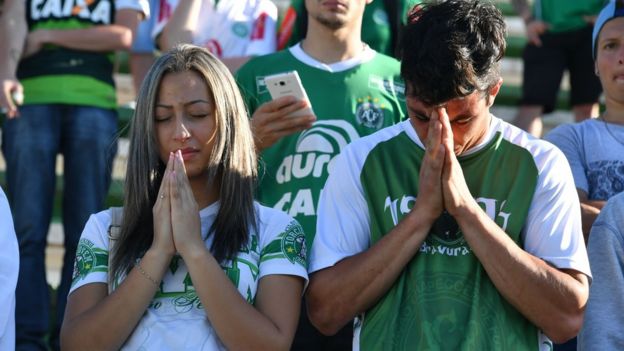 Football fans mourn late players
Of the 21 journalists on board, six worked for Fox Sports Brasil, and a number of others for the Globo media organisation.
Three British investigators are travelling to Colombia to help look into the cause of the crash.
Read more on BBC