A suspected car bomb in Turkey has killed 13 soldiers aboard a bus and wounded 48 more, the Turkish army says.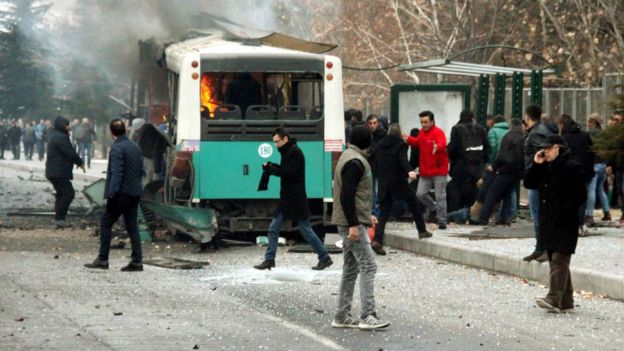 The blast destroyed a bus carrying soldiers who had been allowed to visit a local market. An army spokesman said civilians may also have been injured.
Images from the scene showed the bus reduced to a smouldering wreck with a massive hole punched in one side.
The explosion comes a week after 44 people were killed by a bomb attack in Istanbul claimed by Kurdish militants.
Turkey has suffered a series of fatal bombings in 2016 at the hands of both Kurdish militants and jihadists.
Deputy Prime Minister Veysi Kaynak said the attack in Kayseri was "unfortunately similar" to the attack by Kurdish militants in Istanbul.
President Recep Tayyip Erdogan was informed of the attack and Interior Minister Suleyman Soylu was on his way to the city, the state-run Anadolu news agency said.