World leaders are reacting to the triumph of Donald Trump over Hillary Clinton in the US presidential election.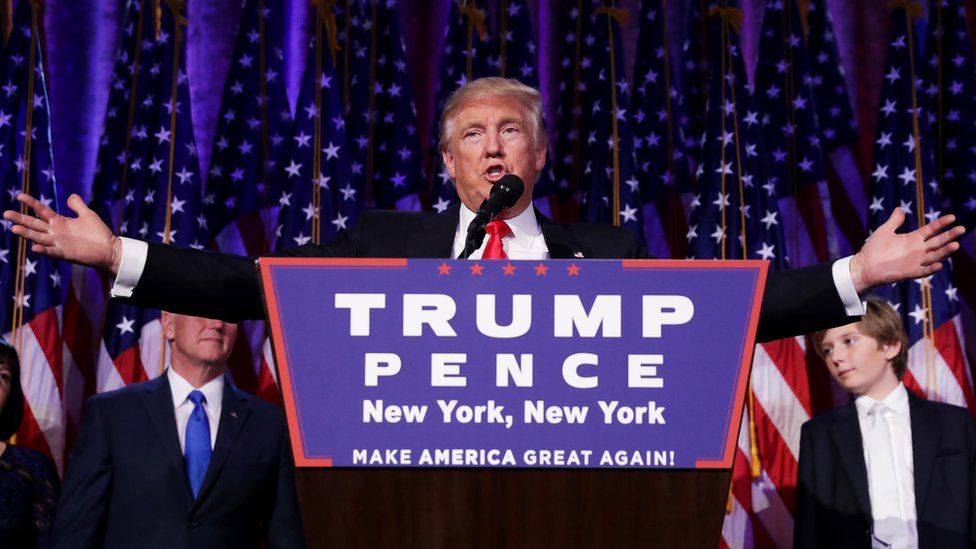 As news of the result was confirmed, they began to send congratulations – some fulsome, some more tentative – to the business mogul.
Russia
President Vladimir Putin has said he is willing fully to restore ties with the US following Mr Trump's victory.
"We heard the campaign statements of the future US presidential candidate about the restoration of relations between Russia and the United States," Mr Putin said on Wednesday.
"It is not an easy path, but we are ready to do our part and do everything to return Russian and American relations to a stable path of development.
"This would be good for both the Russian and American people and have a positive impact on the climate of world affairs."
Relations between the US and Russia have become more tense because of the conflicts in Ukraine and Syria and allegations of Russian cyber attacks in the US during the presidential campaign.
China
Chinese President Xi Jinping congratulated Donald Trump in a telegram, state TV reported.
Earlier the foreign ministry said that China was hoping to work with the new US government to boost bilateral relations.
"US China trade relations are mutually beneficial. Two mature big powers like the US and China will handle things well," foreign ministry spokesman Lu Kang said.
"We look forward to working together with the new US administration to push forward consistent, healthy and stable China-US relations which could be beneficial to the people of the two countries and to the world."
Iran
President Hassan Rouhani said the result would not have any impact on Iran's policies. He was quoted by state media as saying the election result reflected internal discontent and instability within the US which would take a long time to be solved.
Speaking in relation to the Iran nuclear deal, President Rouhani asserted that it was a clever move by the Iranian government to establish it as a UN Security Council resolution rather than a deal with a single government.
Earlier Foreign Minister Mohammad Javad Zarif was quoted by the official Irna news agency as saying that the new US president should stick by the deal.
"Iran and America have no political relations, but it is important that the future US president realises his duty to uphold the multilateral obligations of the Joint Comprehensive Plan of Action, and we expect the international community to require this of the United States of America," he said
Afghanistan
President Ashraf Ghani said that his country and the US are "strategic partners in the fight against terrorism and partners in development".
"[The] Afghan government is hopeful that close co-operation [with] the new president-elect will further deepen ties between the two countries," a statement released by the presidential palace said.
Chief Executive Abdullah Abdullah added that "combating extremism and efforts to bring peace and stability" are the top priorities of both countries, along with strengthening economic, military, social and cultural ties.
UK
In her message of congratulations, Prime Minister Theresa May focused on the "special relationship" between the two countries. She said that she hoped that Mr Trump's win would mean a continuation of shared values, including "freedom, democracy and enterprise".
"We are, and will remain, strong and close partners on trade, security and defence," she said.
"I look forward to working with President-elect Donald Trump, building on these ties to ensure the security and prosperity of our nations in the years ahead."
France
President Francois Hollande said Mr Trump's victory "opens a period of uncertainty".
Speaking in a televised address, he said that there was now a greater need for a united Europe, able to wield influence on the international stage and promote its values and interests whenever they are challenged.
Germany
"The US is an old and venerable democracy," Chancellor Angela Merkel said.
"I watched the election result with particular suspense. Someone elected to be president by the American people in free and fair elections has importance far beyond the USA.
"For us Germans, other than with the European Union, we have no deeper connection than with the United States of America."
BBC