Chelsea striker Diego Costa could face retrospective action despite denying accusations of biting Everton's Gareth Barry during Saturday's FA Cup quarter-final at Goodison Park.
The Spain international was shown a yellow card early on in a 2-0 defeat for a foul on Barry and in the 84th minute, the pair clashed again after Costa retaliated to a challenge by the former England international.
Costa pushed his face into Barry's neck and motioned as if to bite, but appeared to withdraw at the last moment and then embraced his opponent, who did not react.
Referee Michael Oliver pulled out a second yellow card, followed by a red, as the Brazilian-born forward was sent off for the first time in his Stamford Bridge career.
Costa's denial, and an admission of regret, came late on Saturday through a Chelsea statement, which read: "Diego spoke to club officials after the game and expressed regret over his reaction to the challenge from Gareth Barry that led to his red card, but Diego was also very clear that he did not bite him at any point during that altercation."
Barry was dismissed minutes later for a second booking in a separate incident.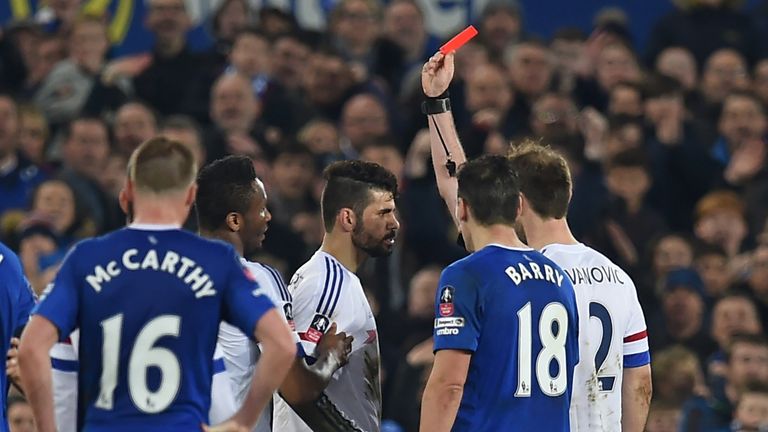 The FA is waiting on a report from Oliver, who was confronted by Costa when he sent the player off, but officials have told Sky Sports News HQthey are aware of the incident and are looking into it.
Oliver will submit his match report within the next 24 hours and any decision to charge Costa would be made by the FA on Monday.
Guus Hiddink and Roberto Martinez both shrugged off questions about the altercation at their post-match news conferences.
"I try to be fair in my judgement, I haven't seen it and it is difficult for me to say yes or no," said Hiddink. "Without seeing, I don't want to give judgement on this.
"(Costa) was chased a bit in the game. They went after him. They knew it. It is within the rules.
"As a referee, you must protect the situation but knowing and feeling the atmosphere – then comes the moment that I would like to give judgement (on) but I haven't seen it."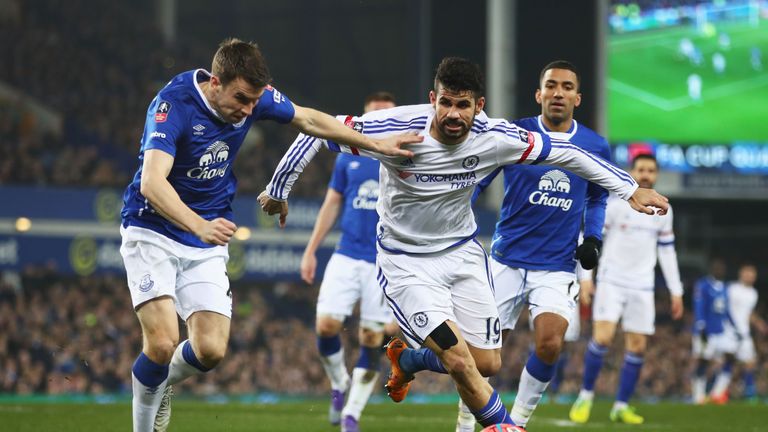 Hiddink was asked whether Costa should seek help for anger management and jokingly made reference to the 2003 film of the same name.
"There are movies about that, I think," the Dutchman added. "One movie with Jack Nicholson. Maybe we go and watch it together.
"I like him still going towards the edge but you also have to take into consideration he was desperate to play today.
"It would have been better to rest him but it is not the type of game you rest players.
"It is all the combination; not fully physically fit and all the provocations and he has to take responsibility for the incident."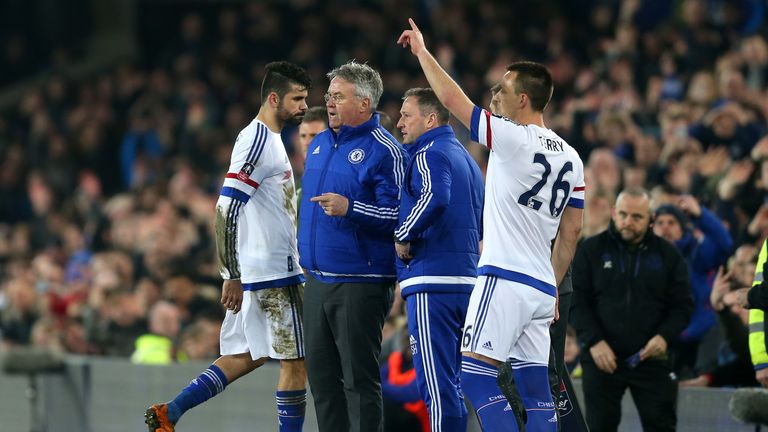 Everton manager Roberto Martinez, who was grateful to two moments of brilliance from striker Romelu Lukaku before the red cards to settle an otherwise disappointing tie, played down the incident.
"My interpretation is I don't think it was a key moment. It was an emotional game and rightly so," said Martinez.
"Diego Costa had a fighting spirit and I would like to praise the referee. The sending-off of Costa was right.
"The sending-off of Gareth Barry was right and the referee never allowed those emotions to stop the fluency.
"Whatever happens with Diego Costa, I am sure the two players shook it off. From where it was, he moved his head towards Gareth Barry and I lost sight of that action.
"I thought it was a second yellow. It was a moment that didn't have an impact on the scoreline."
Martinez rejected the suggestion his players had targeted Costa.
"It is part of trying to do an interpretation as you want," he added.
"We matched each other well. None of my players fell into the focus of losing the game."
SKYSPORTS