Tesla has unveiled its much-anticipated Model 3 electric car – its lowest-cost vehicle to date.
The company's chief executive Elon Musk said the five-seater would start at $35,000 (£24,423) and have a range of at least 215 miles (346km) per charge.
He added that his goal was to produce about 500,000 vehicles a year once production got up to full speed.
The California-based company needs the vehicle to prove popular if it is to stay in business.
The first deliveries of the vehicle are scheduled to start in late 2017, and it can be ordered in advance in dozens of countries, including the UK, Ireland, Brazil, India, China and New Zealand.
Tesla delivered 50,580 vehicles last year. Most of those were its Model S saloon,which overtook Nissan's Leaf to become the world's best selling pure-electric vehicle.
But the firm still posted a net loss of $889m (£620m) for 2015, partly because it spent $718m on research and development over the period.
It left Tesla with cash reserves of $1.2bn, down from $1.9bn a year earlier.
"For a long time there had been questions about the long term viability of Tesla," commented Jessica Caldwell, an industry analyst at the car research site Edmunds.
"With niche products like the Model S and the Model X, it hasn't been hitting any sales targets that would sustain its business.
"So, launching what it hopes will be high-volume vehicle is going to show if it can become a fully-fledged auto company that will succeed in the long-term rather than one that pumps out a few cool cars and then goes bust, as we've seen happen with other electric car start-ups such as Fisker."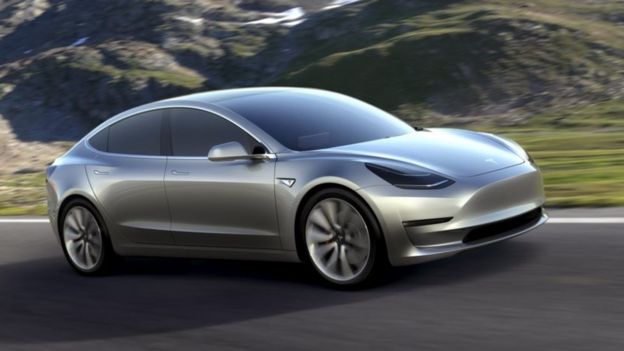 Other details provided about the Model 3 included:
The base model will accelerate from zero to 60mph (97km/h) in less than six seconds, other models will go faster
It will include the "autopilot" safety features found in existing models, which allow the cars to steer themselves and avoid collisions
It will support "supercharging" as standard, allowing the cars to recharge more quickly at special power stations. Tesla aims to double the number of places offering supercharging to about 7,200 worldwide by the end of 2017
It provides storage room at the front and rear of the vehicle
Mr Musk added that the car should feel more spacious to passengers than similar-sized petrol-based cars because of design decisions Tesla could make by not using a combustion engine.
Pre-order excitement
In scenes more commonly associated with smartphone launches than those of vehicles, hundreds of people queued outside Tesla stores in the US to try to secure one of the first Model 3s.
They had to pay a $1,000 deposit to reserve the car before they had even seen it. The company also began taking online orders an hour before its press event had begun.
At the end of his presentation, Mr Musk said that Tesla had already received more than 115,000 orders.
The move should help the firm head off competition from other forthcoming similarly-priced electric cars that will become available first, including General Motors' Chevy Bolt and BYD's Qin EV300.
Part of the incentive to commit early is that a $7,500 tax credit offered to US buyers is set to be pulled once the company has sold 200,000 vehicles in the country.
BBC